Boat Models
Dragboat Posters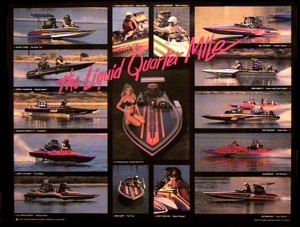 Liquid Quarter Mile – Part 1
This poster features open boats like Sunny Jones' 'My Boat Too', Jerry Fulgham's 'Hillbilly', Ted Faggart's 'Superstar', Bill DeMent's 'Sudden Impact', Steve Coccellato's 'Nasty Habit', Gordon Padgett's 'Final Effort', Jay Haroutunian's 'Whiskey River', Terry Thompson's 'Master Blaster', Jim Benson's 'Hot Blooded', Fred Bray's 'Coors Light Silver Bullet', Jim Ermshar's 'Ivory Hunter', Ron Sapp's 'Tuff Toy', and Scott Boothe's 'Spare Change'
Size: 30×20
Price: $19.99 + Shipping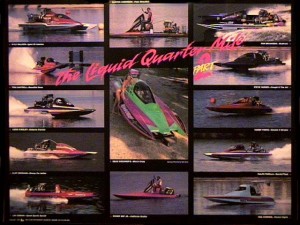 Liquid Quarter Mile – Part 2
This poster features some of the fastest boat in the world of today, like Clinton Anderson's 'Fatal Attraction', Ron Braaksma's 'Madness', Cliff Bingham's 'Money For Nothin', Lou Osman's 'Speed Sport Special', Roger Way Jr.'s 'California Hustler', Rod Corning's 'Wasted Nights', Dean Kirschner's 'Blown Crazy', Kebin Kinsley's 'Alabama Express', Ralph Padilla's 'Quarterflash', Kyle Walker in 'Spirit of America', Tom Cantrell's 'Beautiful Noise', Randy Fawks' 'Smokin & Strokin', and Steve Varner's 'Caught In the Act'
Size: 30×20
Price: $19.99 + Shipping
---
We have V – drive models for sale
Hemi Hydro Dragboat
We have V – drive models for sale the Hemi – hydro
Very hard to find. Only 3 in stock.
$59.99 + Plus Shipping
---
70 Pontiac Bonneville With Race Boat & Trailer
We have V – drive models for sale the Bonneville Speedboat
Very hard to find. Only 0 in stock.
$59.99 + Plus Shipping
Sold Out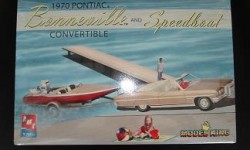 ---
 Bad Ass Diecast Top Fuel Hydros
The TFH are 1:18 Scale, 13 inch long
They are the coolest Collectibles you will ever find!
The capsule opens, inspection covers open,
fuel hat opens, They are so Bad Ass!
TFH $129.99 Each
Trailers $29.99 Each
Plus Shipping
Whiskey River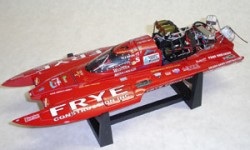 The Top Fuel Hydros (TFH) are the quickest and fastest of the Drag Boat Family.  TFH are the equivalent of the Top Fuel Dragsters racing on asphalt.  Nitro burning TFH Engines produce 7,000 HP.  TFH can cover the quarter mile in 4.6 seconds at speeds exceeding 255 MPH.  Half Track (1/8 mile) ET's of 2.8 seconds and speeds over 200 MPH within 600 feet.  Most TFH weigh close to 4,000 pounds and use two propellers to apply the 7,000 HP to the water.
The boats are very accurate and in almost all components there were actual drawings sent to China, from the Hull, Mags, Drive Assembly, Capsule, Roll Cage and engine components, this project took sixteen months to build.
1:18 Scale TFH Diecast is approximately 13 ½" Long and 5 ½" wide. Actual boat is approximately 20' long
Drag Boats come with Stand enclosed in the box.  Clear round plastic tool in top of box is used to open side magnetic hatch panels to show foam, batteries & air bottles.  Cowl behind Capsule is magnetic and is removable to show the W-Drive Twin Propeller Drive Assembly.  The Capsule is also removable, once the Cowl is removed place fingers on the rear of Capsule and lift upward while not grabbing the side loops.  The Capsule has a functional opening Canopy (F-16 Fighter Canopy) displaying seat belts, oxygen system, latches, steering wheel & throttle.  With Capsule in the boat the Steering function can be seen by turning the Steering Wheel, do not try to turn Steering from the Rudder.
The TFH Engine has opening butterflies, fuel lines, blower restraint safety blanket, twin MSD Mags, MSD Pro Mag 44 Boxes & Coils, oil pump, Bellhousing, port nozzles, starter, fuel shut off and barrel valve. Note top Mag has black plug wires and bottom Mag has red plug wires and both Mags are in time.
Twin Prop Assembly on the bottom of the Hull. Functional Rudder Assembly, Fuel tank, fuel hose and engine oil breather system and twin Parachute assembly w/safety straps. The Hull is a Water Craft by Wolfie, the most common and currently the fastest Hull racing. All six boats are Water Craft Hulls.
Each Hull has a brass serial number plate on the bottom of the hull with consecutive serial numbers from 001 to 1,250.  Actual current photos of the boats and crew members decorate the color packaging.
There are six boats for 2006, one release each Month starting in July.
---
Dante's boat made it into the Pertronix Performance catalog!!!!
---
Theoretical Top Speed Formula
Well let's see…engine rpm x's gearing x's prop pitch x's 60 (as in 60 minutes per hour, as in mph) ALL divided by how many inches in a mile (12″ x's 5,280'= 63,360) I think this will give you mph at any given rpm (theoretically)
So.. 5,000rpm X's 1.25 (gearing as in 25% overdrive) X's 15″ prop X's 60 All DIVIDED BY 63,360 should equal 88.78 MPH
---
PROP SLIPAGE
Theoretical mph = engine rpm x gear ratio/ (1056/prop pitch) 6800×1.18/(1056/15)= 114mph now you deduct slip, at 15% you'll run 97mph at 18% you'll run 94mph.
---
Dante new toy rc drag hydro splashed off a 501 kurtis, its electric the record is 124 MPH.
IHBA DRAGBOAT RACING 2008                     World Finals
Speed TV dragboat race schedule
2008 IHBA LUCAS OIL DRAG BOAT RACING SERIES BEGINS AIRING ON SPEED TV SATURDAY DECEMBER 6… ALL SHOWS ARE SATURDAY MORNING AT 8:30 PACIFIC AND 11:30 EASTERN
Dec 6: IHBA Lakefest (April Season Opener) Top Fuel Hydro & Pro Modified
Dec 13: IHBA Lakefest (April Season Opener) Top Alcohol Hydro & Top Alcohol Flat

Dec 20: IHBA Super Nationals (Chowchilla CA) Top Fuel Hydro & Pro Modified
Jan 3: IHBA Super Nationals (Chowchilla CA) Top Alcohol Hydro & Top Alcohol Flat
Jan 10: IHBA Marble Falls TX Lakefest – Top Fuel Hydro & Pro Modified

Jan 17: IHBA Marble Falls TX Lakefest – Top Alcohol Hydro & Top Alcohol Flat
Jan 24: San Diego Bayfair Top Fuel Hydro & Pro Modified
Jan 31: San Diego Bayfair Top Alcohol Hydro & Top Alcohol Flat

Feb 7: WORLD FINALS Top Fuel Hydro 

Feb 14: WORLD FINALS Top Alcohol Hydro
Feb 21: WORLD FINALS Top Alcohol Flat
Feb 28: WORLD FINALS Pro Modified
March 7: IHBA LUCAS OIL SEASON IN REVIEW: Top Fuel Hydro